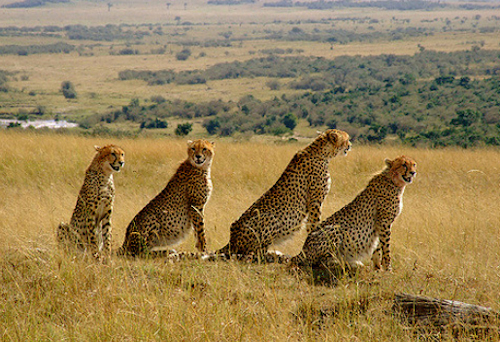 Kenya is renowned for its brightly coloured tribes and soaring savannah, home to the great migration of wildebeests and Africa's 'Big Five'.
Perfect for romantic getaways, honeymoons or even luxury family safaris, Kenya offers world-class wildlife adventure, safari experiences on private reserves, and some of the most luxurious lodges and safari camps on the continent.
A Kenyan safari offers striking contrasts, with snow-capped mountains bordering vast deserts, jungle-rimmed coastlines spilling out onto the sparkling ocean, ancient plunging valleys and thundering waterfalls, and lush forests giving way to harsh plains.
The diverse range of landscapes hold some of the world's most eclectic and abundant wildlife, with the opportunity to venture out on game drives to spot Africa's 'Big Five', including lions, elephants, rhinos, leopards and buffalo.
The country is also home to scores of baboons, giraffes and flamingos, endangered species such as the black rhino, and millions of thundering zebras and wildebeest that you can observe on a thrilling migration safari.
Kenya is a haven for wildlife, with an incredibly successful network of national parks, wildlife reserves and conservation initiatives, making it possible to witness these magnificent species in their natural habitats. We ensure your trip is not only unforgettable but also benefits all the communities visited. Also the newly opened company in Kenya to offer Eco tours has branded interesting combining wildlife gorilla safaris in Kenya and Rwanda.
Walk through the Sera Community Conservancy in search of protected rhinos, within the undiscovered northern frontier near Samburu National Park and Nakuru National Park.
Explore the Masai Mara National Reserve with us and enjoy the world-wide vita of the wild beasts which you will never forget on your travel in east Africa and Africa at large.
Witness a brilliant Kenyan sunset, with the iconic image of a lone acacia tree silhouetted against the sizzling golden horizon. Complete your Kenya safari tour with a trip to the laid back Kenyan coast – the perfect pinnacle of any honeymoon or luxury safari to Kenya.
The beaches offer great snorkeling and diving excursions, unadulterated beach time, or for those looking for even more wildlife, the undiscovered coastal forest of Shima Hills National Reserve awaits. Kenya is the true 'Out of Africa' experience.